The vintage look can create a feminine, romantic atmosphere at your wedding. The vintage style incorporates classic elements aside from your dress, such as timeless blooms and props.
Rather than using twine and jam jars, the vintage wedding style uses lace, china, pearls, heirloom brooches, and more. In Full Bloom, the best florist in Melbourne, Australia provides beautiful vintage flowers to complete your look.
In this article, we'll cover the essentials of a vintage wedding, from vintage-looking flowers to bouquet accessories.
Vintage Blooms from Melbourne Florist Australia
The blooms that create an antique style are the classics, such as roses, sunflowers, carnations, and ranunculi, to name a few. The colours should be soft and romantic such as shy pink or sweet Akito.
We find it best use classic, humble flowers that look like they were grown in Grandma's backyard. We love using sweetpeas, snapdragons, jasmine, or lavender with our vintage blooms.
While there are no precise rules on vintage flowers, you should avoid modern, tropical flowers. Blooms such as orchids or calla lilies should be left out of your arrangement.
Vintage Foliage
Foliage is an essential part of any beautiful bouquet. We love to use dusty miller, also known as silver suede, to piece through our floral arrangements. Dusty miller has a soft, pale grey colour and feels like velvet.
Dusty helps to add texture and contrast to the bouquet when placed next to muted hues. The florist can also use it to accentuate individual flowers. For example, round posies look excellent framed by silver suede.
Linen & Lace
Well-pressed linen can be a simple way to elevate the style of the bridal reception. Whether it's a gorgeous table cloth, overlay, runner, or napkins, take time to consider the fabric over your tables. It can be plain white, patterned, bright coloured, or soft-toned, but it's the essential base to your centrepiece.
Alternatively, lace can add a romantic and lush feel to the wedding reception. You can use it sparingly to tie off bouquets. You can also leave it long and draping off your tables to create a soft, inviting look.
Vintage Props
Also, vintage props can add to the story that you tell with your decorations. How idyllic would a bike with flower-filled baskets look at your reception? How about stacked vintage suitcases to take your guests back in time?
Adding details like props can complete the vintage look and create plenty of photo opportunities for your guests.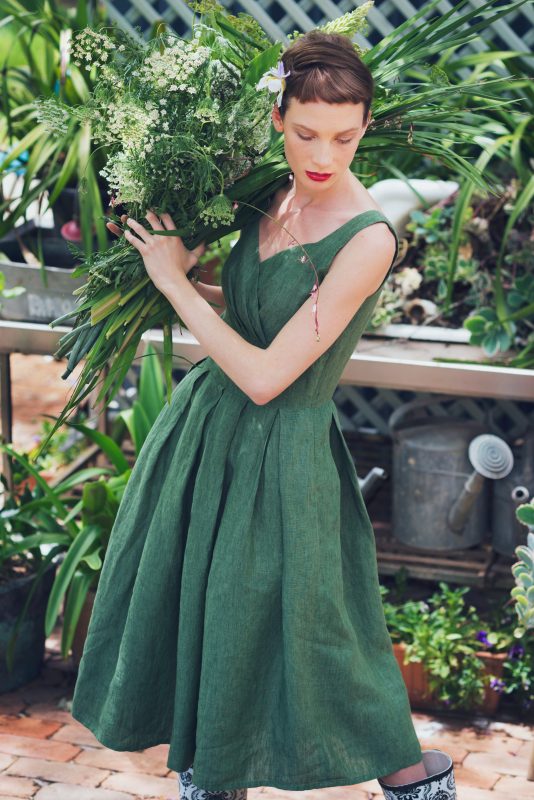 Bouquet Accessories
Aside from lace, you can use heirloom brooches to accentuate your vintage blooms. Anything that's been passed down through your family can add a great, personal touch to your floral arrangements. Your florist can add the brooch to a floral pick and insert it within the flowers, or attach the jewellery to the bouquet wrap.
You can get creative, using handkerchiefs and doilies to wrap around the bouquets. Tiny photo frames honouring your grandparents can also be attached to your bouquets.
We hope this article has inspired you to create a vintage look at your wedding. If you need a florist in Melbourne, Australia for your wedding, contact In Full Bloom today.